Of the many museums in Vienna, the Kunsthistorisches Museum has one of the most impressive collections. Its numerous paintings, archaeological artifacts and works of decorative art are displayed in a monumental building at the
Maria-Theresien-Platz
.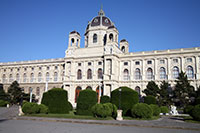 Kunsthistorisches Museum
The collection of the Kunsthistorisches museum is based on the works of art that the many Habsburg rulers acquired over the centuries. The artwork was originally housed in the
Hofburg (the Imperial Palace)
and later also in the
Belvedere Palace
.
After the city fortifications were demolished in the mid-nineteenth century and replaced with the
Ringstraße
- a large boulevard, a project was started to create a new museum complex across
Ringstraße
from the
Hofburg
. Here the existing collections of the Habsburgs would be brought together.
Museum Building
Construction of two monumental museum buildings - one for fine arts and one for natural history - started in 1872 at a new square, the
Maria-Theresien-Platz
.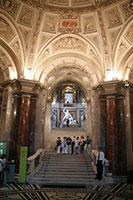 Museum Interior
The twin structures were built on either side of the square and mirror each other. The design was created by Gottfried Semper, who was also responsible for the design of the
Neue Burg
, the last expansion of the
Hofburg
. The intention was to connect the palace with the new museums across the
Ringstraße
by large triumphal arches, but the outbreak of World War I and subsequent fall of the Habsburg empire brought an end to those plans.
The interior of the Kunsthistorisches Museum, designed by Karl von Hasenauer, is spectacular, with large marble columns, monumental staircases and statues. A number of prominent Austrian artists, such as Franz Matsch, Gustav Klimt and his brother Ernst Klimt, decorated the interior with lively murals.
Collection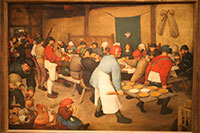 Village Wedding Feast,
Pieter Bruegel
The huge collection of the museum was amassed by the Habsburg monarchs, and hence is a reflection of their personal tastes.
The Gemälderie, the collection of paintings, is one of the largest in the world and spans an era from the fifteenth to the eighteenth centuries. Especially well represented are Flemish artists, with the largest collection of Pieter Bruegel the Elder and three rooms of paintings by Rubens. Dutch, Italian (mainly Venetian) and Spanish artists - Velázquez in particular - are also well represented. The museum also has an excellent collection of German paintings from artists such as Albrecht Dürer and Hans Holbein the Younger.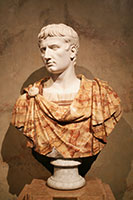 Bust of
Emperor Augustus
There's more than just paintings in the Kunsthistorisches Museum though. On the ground floor are Roman and Greek antiquities; here you'll find a large number of statues and busts from Roman emperors as well as Greek vases and statues. The rooms that house the Egyptian collection are beautifully decorated with typical Egyptian motifs and hieroglyphs. There are plenty of sarcophagi here as well as Egyptian statues, papyrus, pots and other artifacts.
The Kunstkammer houses a collection of sculptures and works of Decorative Arts with some profusely decorated items often made with expensive materials such as ivory, silver or gold. Other collections of note include the prehistoric artifacts and the Münzkabinet - the numismatic collection, one of the world's largest, with coins dating as far back as 650 BC.
http://www.partner.viator.com/en/9347/tours/Vienna/A-Small-Group-Tour-through-the-Vienna-Art-History-Museum-Tickets-included/d454-68629P6

Duration: 2 hours 30 minutes
http://www.partner.viator.com/en/9347/tours/Vienna/Expert-Led-Private-Tour-of-Vienna-s-Kunsthistorisches-Museum/d454-5411P186
Subway
Museumsquartier (U2)
Volkstheater (U2, U3)
Location
Maria-Theresien-Platz