Originally founded in 1741, the Burgtheater - affectionately known as the 'Burg' - is one of the most important theatre companies in Europe. It is housed in a magnificent building, situated at the
Ringstraße
opposite
Vienna's City Hall
.
History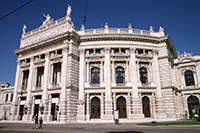 Burgtheater
The Hofburgtheater was founded by Maria Theresia in 1741 and was housed in the 'Ballhaus' in the
Imperial Palace
. In 1751 the theatre company moved to a new building at
Michaelerplatz
known as the Königliches Theater nächst der Burg (Royal Theatre near the Palace).
In 1888 the original theatre was demolished and replaced by the current building at the
Ringstraße
, at the time known as the Königlich Kaiserliches Hofburgtheater. The facade still shows the name 'K.K. Hofburgtheater', but since 1919 the theatre has been simply known as Burgtheater. In 1897, less than ten years after its opening, the theatre had to be temporarily closed when it was clear that the acoustics were dreadful and many seats had no view of the stage at all.
The building was heavily damaged in 1945, when a fire caused by an allied bomb destroyed the central part of the structure.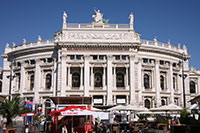 Central facade
Restoration started in 1952 and in 1955 the Burgtheater reopened with 'König Ottokars Glück und End', a tragedy written by Franz Grillparzer.
Construction
The Hofburgtheater building was constructed between 1874 and 1888 after a design by Karl von Hasenauer and Gottfried Semper. Semper - best known for his
Opera House in Dresden
- was responsible for the exterior while von Hasenauer was responsible for the interior design. Semper had collaborated earlier with Hasenaer on the museum buildings at the
Maria-Theresien-Platz
but resigned in 1876 due to a conflict with von Hasenauer after which the latter took charge of the whole project.
Design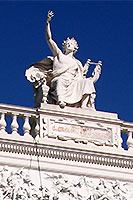 Statue of Apollo
The theatre is designed in Italian high-Renaissance style. Many sculptures decorate the ornamented facade.
The central statue shows a seated Apollo, with the muses Melpomene (muse of Tragedy) and Thalia (muse of Comedy) on either side. Below these figures is a large frieze depicting Bacchus and Ariadne, designed by Rudolf Weyr.
Corinthian pilasters and columns frame the windows which are crowned with busts of famous writers such as Molière, Shakespeare, Goethe and Schiller. The balustrade is decorated with figures of putti, each of them playing a different musical instrument.
Interior
The semicircular central facade is flanked by two straight wings which house the grand staircases that lead to the sixty meter (197 ft) long foyer which curves around the central theatre hall.
Frescoes on the ceiling above the staircases show the history of drama. They were painted by Franz Matsch and the brothers Ernst and Gustav Klimt. Along the staircases are busts of famous playwriters.
The central part was - unlike the north and south wing - rebuilt after the war and contains the foyer and theatre hall.
Visiting the Theatre
The Burgtheater has a wide ranging program, from classical and contemporary pieces to experimental theatre, all in German. There are also tours of the theatre which start in the north wing of the building.
Subway
Rathaus (U2)
Schottentor (U2)
Herrengasse (U3)
Location
Dr Karl-Lueger-Ring