Opened in May 2006, the Hauptbahnhof is Berlin's sparkling new train station, constructed after the fall of the
Berlin Wall
to provide a central transportation area for the entire city.
A New Station
Once Germany was reunited,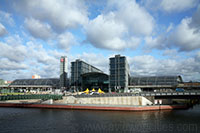 the need for more efficient travel became an issue. Citizens were now free to travel from one part of the country to the other and were looking for an easy way to do so.
The German government recognized the need for a new central transportation station that would solve the problems of the newly-meshed society. In order for Berlin to keep developing, railroads merged and proposals for new and better local and long-distance trains were made.
In the early 90s, transportation officials decided that a new station should be built at the site of the old Lehrter Bahnhof, first opened in 1871 but demolished in 1959. They held a competition to choose an architectural firm and the winner was the Hamburg firm of Gerkan, Marg, and partners.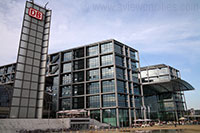 Construction began in 1995 and the railway station was officially opened on 26 May 2006.
About Hauptbahnhof
Five levels high, the construction of this striking glass structure began with the building of tunnels that carried trains below the Spree River to the
Tiergarten
and
Potsdamer Platz
. Today, approximately 1,800 trains per day travel in and out of the busy station, with a total of about 350,000 passengers each day. Six passenger tracks are located on the upper level and eicht are on the lower platform.
Structurally, the 321-meter (originally 450m was planned) glass and steel station hall runs from east to west and is intersected by the 160 meter-long,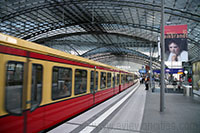 The S-Bahn level
40 meter-wide station building, running in a north-south direction. This transparent station is framed by two 46-meter-high arched structures that span the Stadtbahn line, thus emphasizing the station's role as a "crossing".
More than 70,000 square meters of floor space are available to passengers, of which 15,000 is being used to house shops and restaurants. Most are open from 8 am to 10 pm, and visitors will find everything they need here, from pharmacy services to flower stands.
The Architecture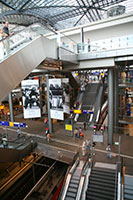 Interior
Architecturally, the station has received mixed reviews though most consider it a bright spot in Berlin's skyline. Even the architect called it a "structural and logistics challenge".

The original plans for the new station were nevertheless very promising; it would become a spectacular modern railway station, Europe's largest.

However, problems started already in 2001 when it was announced that in order to restrain the spiraling costs of the massive station the length was shortened from 450m (1476ft) to 321m (1053ft). As a result the building has become disproportionate. And unfortunately this was only the first of many more 'cost-savings'. The interior, originally thoughtfully designed to create a modern version of Europe's grand railway stations, is now merely as bland as a run-of-the-mill warehouse.

Nevertheless, the railway station is still worth a visit if only for its sheer size.
Subway
Hauptbahnhof (S5,S7,S75, U55)