While the park - located in the Kitsilano neighborhood just across Burrard Bridge - is rather unremarkable itself, it is home to three of Vancouver's main attractions.
About the Park
Sitting at a site that was once a Royal Canadian Mounted Police station,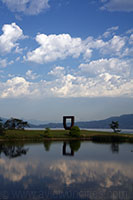 Vanier Park
Vanier Park was established in 1967. Located on a peninsula not far from the Burrard Bridge, the park has an optimal location - providing views of the water, including English Bay and False Creek, and excellent views of downtown Vancouver as well. Walking paths connect it to Kitsilano Beach.
Besides being home to three museums, Vanier Park also hosts some of the city's most well-known summer festivals, including a Shakespeare fest known as Bard on the Beach and the annual International Children's Festival.
The Museums
Most visitors to Vanier Park are heading to one of three major attractions located there - The H.R. MacMillan Space Centre, built in 1968; the Vancouver Museum; and the Vancouver Maritime Museum. All three are well worth a visit and will probably consume most of the time allotted to explore the park.
H.R. MacMillan Space Centre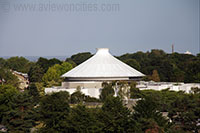 H.R. MacMillan Space Centre
Constructed soon after the park opened, this space museum is a joy for the whole family to explore. The centre is home to a state-of-the-art planetarium, a full-motion virtual simulator that takes visitors on "rides" through space; Ground Station Canada, a 90-seat multi-media theater that presents live action and video productions; the Cosmic Courtyard, featuring loads of space-oriented hands-on fun; and an observatory that offers programs for all ages.
Vancouver Museum
First opened in 1894 but situated in Vanier Park since 1968, the Vancouver Museum is Canada's largest civic museum. Dedicated to exploring the human and natural history of the greater Vancouver area, this museum features continuously changing exhibits and offers educational programs for all ages.
Vancouver Maritime Museum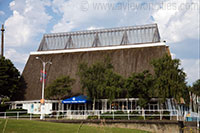 Maritime Museum
Vancouver has a rich maritime history and this museum endeavors to educate visitors about it through "education, preservation, and inspiration". Several exhibits/galleries are permanent but the museum also hosts temporary/visiting exhibits as well. Many focus on maintaining the fragile ecosystem that is the sea.

Onsite Heritage Harbour offers a collection of small seafaring vessels for all to explore and the Children's Maritime Discovery Centre is ideal for young visitors.

All the admission prices to the above museums are reasonable but guests who plan to visit all three should invest in an Explorepass, which offers a combined admission to all the museums in Vanier Park. (Visits don't need to be done all in one day.)