The oldest museum on the continent, the Australian Museum houses an impressive collection of natural history and anthropological artifacts and information from around the world, concentrating heavily on the natural history of Australia and surrounding Pacific regions.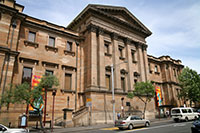 Australian Museum
Established in 1827 as "a Publick Museum in New South Wales where it is stated that many rare and curious specimens of Natural History are to be procured", this Sydney museum has become one of the finest of its kind in the world.
The Collections - Yesterday and Today
In the early days of the Australian Museum, the first organizers collected unique flora and fauna for display in the museum, hoping to entertain and entice the public. The museum quickly became renowned for its unique exhibits, especially its expansive ornithology collection. Indeed, most of the early curators of the museum were taxidermists who set up animal displays that wowed visitors. Soon, however, museum officials became interested in acquiring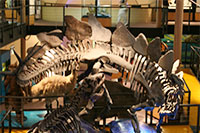 Dinosaur skeletons
collections for research purposes and scientists were added to the staff.
It wasn't until about three decades later that curators became interested in anthropology and collecting artifacts from the indigenous peoples of Australia. Eventually, site excavations were carried out and museum's anthropological collection grew steadily. Historical collections were also expanded, many pertaining to the colonization of Australia. Research centers were added.
Today, displays are presented thematically and the Aboriginal collection at the Australian Museum is one of the most highly-acclaimed of all the displays in this vast museum. The museum has taken a keen interest in Australia's environments and her biodiversity, educating the public about the continent's unique natural resources and the cultures of her people.
You'll find sections dedicated to Earth Sciences including geosciences and paleontology; invertebrates and vertebrates;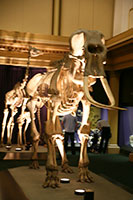 Skeleton
evolutionary biology; environmental sciences like marine and terrestrial ecology; and a fine ethnographic collection of more than 100,000 artifacts from indigenous Australia, the Pacific Region, Asia, Africa and America. Temporary exhibits also visit the museum and change several times a year.
Education
The Australian Museum offers all sorts of special programs and educational events for every member of the family, from lectures and workshops for adults to "Scientist for a Day" programs for the little ones.

Performances by local musicians and dance companies are often featured on Sunday afternoons and are suitable for visitors of all ages.

Australian Museum General Entry Ticket
http://www.partner.viator.com/en/9347/tours/Sydney/Australian-Museum-General-Entry-Ticket/d357-6009ENTRY
Location
6 College Street