Like a giant UFO, the Globe Arena looms over the southern part of Stockholm. The skyview, which brings visitors to the top of the building, is one of Stockholm's most recent attractions.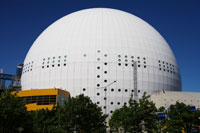 Globen
The Globe Arena (Arena Globen) is located in the district of Johanneshov, just south of Södermalm. Since 2009 the arena, commonly known as Globen, has been officially known as the Ericsson Globe.
The arena
The Globe Arena was designed by Berg Architects as the world's largest hemispherical building. With its distinctive shape, seen for miles around, it soon became a modern symbol of Stockholm. The arena, which opened in 1989, has a diameter of 110 meters and a ceiling height of 85 meters.

The arena is used as a multifunctional event hall, and hosts sports competitions, cultural events and concerts. The first major competition held here was the 1989 world championship hockey. International stars such as the Rolling Stones, Bruce Springsteen and Luciano Pavarotti have performed here for audiences of up to 16,000 people.
Skyview
Skyview gondola
In 2010 a new attraction opened at the Arena Globen: skyview. It consists of two spherical glass gondolas, attached to rails on the side of the sphere. Each gondola has room for sixteen people, who can enjoy a fabulous unobstructed view over Stockholm from the top of the Globen, at a height of 130 meters (427 ft) above sea level.
Globen City
The area around Globen has been developed into a new micro-city known as Globen City, which boasts a shopping gallery with more than 150 stores. Nearby are two more indoor arenas (Annexet and Hovet) as well as two outdoor stadiums; the most recent one, Tele2 Arena opened in 2013.