The National Museum - a monumental building in neo-renaissance style - was built in the late 1880s at a prominent location on
Wenceslas Square
.
The National Museum was built between 1885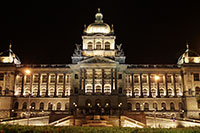 National Museum at night
and 1890 by local architect Jozef Schultz, who was also responsible for the reconstruction of the burned-down
National Theatre
.
The new structure was not only built to house the collection of the museum - founded in 1818 - but it was also built as a symbol of national identity. It was no coincidence that the neo-Renaissance building was erected at the top of
Wenceslas Square
. Thanks to its notable location, the National Museum is one of the most photographed buildings in Prague.
The Building
While the building's exterior is mostly notable for its monumental volume, the interior is the most attractive part of the museum, especially the large staircase hall and the impressive pantheon. The latter hall is dedicated to leading figures of the Czech nation. The vaults are richly decorated with ornaments and frescoes and the hall is topped by a magnificent glass dome.
Exhibitions
Besides temporary exhibitions, the museum has permanent exhibitions on biology, anthropology, mineralogy, geology, decorations and numismatics as well as an exhibition about the history of the region.
Renovation and Expansion
In 2015 a major renovation of the national museum building started that is expected to be completed in October 2018. Meanwhile a part of the national museum's collection is exhibited in other buildings, including the adjacent 'new building', the former Federal assembly building. An underground tunnel will link the new building with the historic building on
Wenceslas Square
. The collection will also be made more accessible to foreign visitors thanks to multilingual labels and additional information that well provide a broader context.
Location
Václavské náměstí 68