Benjamin Franklin Parkway is Philadelphia's most famous street, fittingly named after the city's most famous resident.
First Plans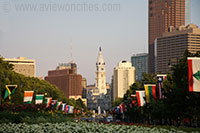 Benjamin Franklin Parkway
As early as 1891, a proposal was submitted to the city council to create a wide road connecting Philadelphia's administrative center with the city's large green lung, Fairmount Park. In 1907 a plan for the new road was developed by Paul Cret, Horace Trumbauer and Clarence Zantzinger and that same year the first buildings were demolished to make way for the new boulevard.
The official start of the development wasn't until ten years later, in 1917.
1917 Plan
The original plan in 1907 called for an urban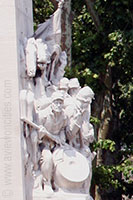 Civil War Memorial
boulevard lined by impressive buildings, much like the
Champs-Elysées
in
Paris
. But in 1917 the Fairmount Park Commissioners accepted a plan by Jacques Gréber, an urban architect who worked in collaboration with Paul Cret. This new plan consisted of a wide boulevard with two different sections.
One section, stretching from Logan Square to Eakins Oval consists of one wide avenue with park-like roads on each side. Surrounded by greenery, this part of the Benjamin Franklin Parkway is the boulevard's most beautiful. The other section of the parkway, connecting the
City Hall
with Logan Square is of a more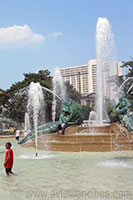 Swann Fountain
modest nature.
Logan Square
The focal point of the parkway is
Logan Square
. Originally one of the five squares in Penn's original plan for Philadelphia, it was redesigned by Gréber as a large traffic circle similar to the
Place de la Concorde
. At the center is a large fountain, the Swann Memorial Fountain. It was built in 1924, two years before the official completion of the Benjamin Franklin Parkway.
Institutions
Subway
15th Street (Market-Frankford Line)