Paris's historic covered arcades - locally known as passages or galeries - were the precursors of today's shopping malls. Of the more than 100 passages that were built during the 19th century, about 20 have survived. Most are located in the center of Paris, around the 2nd
arrondissement
.
History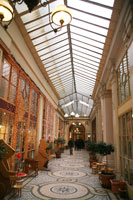 Galerie Vivienne
At the end of the 18th and beginning of the 19th century numerous covered passages were created in Paris. The passages, mostly shopping arcades covered with glass roofs, were modern symbols of urban life and the place to shop in Paris. Many of these passages were beautifully decorated with mosaic floors, cast iron gates, marble pillars and ornate clocks.
At its peak during the mid 19th century, there was a network of more than 140 passages, many connected to each other. The pedestrianized passages, home to shops, restaurants and apartments, were very popular as they protected visitors from inclement weather and the often dirty and odorous streets. Their popularity soon started to decline due to competition from large department stores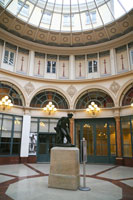 Galerie Colbert
such as
Galeries Lafayette
and Printemps, and many were abandoned and started to fall in disrepair. Others were demolished during the redevelopment of Paris by baron Haussmann between 1852 and 1870.
At the end of the 20th century, especially during the 1980s, the glass covered passages started a revival, and many of the about 20 surviving shopping arcades were restored, such as the passage Jouffroy with its barrel vault skylight and the elegant Galerie Vivienne with its mosaic floors.
The passages today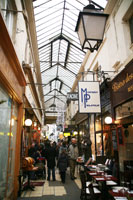 Passage des
Panoramas
Today the passages are home to numerous upscale, quirky and specialty shops. Some, such as the passage Brady and the passage des panoramas, house plenty of restaurants. Rainy days are ideal for a stroll through some of these historic arcades where you can enjoy the architecture or browse the many boutiques and antique shops while being sheltered from the rain.
Some Highlights
The oldest surviving covered shopping arcade is the Passage du Caire (Cairo Passage). It was built in 1798-1799, at a time when Napoleon held a military campaign in Egypt, hence its name. The second oldest and the first to be equipped with gas lights is the Passage des Panoramas, which opened in 1800.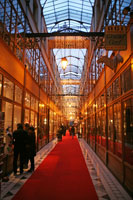 Passage du
Grand-Cerf
It was named after panoramic paintings depicting large cities that originally decorated the entrance.
Across the boulevard Montmartre from the Passage des Panoramas are the Passage Jouffroy and Passage Verdeau, both covered with magnificent glass canopies.
Even more spectacular is the glass dome of the Galerie Colbert, one of the most ornate of the arcades in Paris. The adjoining Galerie Vivienne is decorated with mosaic tiled floors, brass lamps and a beautifully renovated clock. It is one of the most upscale arcades, home to several galleries and pricey boutiques.
Other noteworthy passages include the Passage des Princes, Passage Choiseul, Arcade des Champs-Elysées, Galerie Véro-Dodat and Passage du Grand-Cerf, with harmonious wooden shopfronts.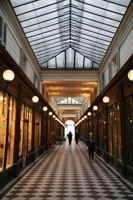 Galerie Véro-Dodat
If you're into Indian and Pakistani food, then a visit to the Passage Brady is in order.
Location
The most interesting covered passages are located in and around the 2nd arrondissement:
Duration: 5 hours 30 minutes
http://www.partner.viator.com/en/9347/tours/Paris/Private-Tour-Opera-Garnier-and-Passages-Couverts/d479-3234OPERAGARNIER