The royal chapel of the
Invalides complex
is the location of the tomb of one of France's favorite native sons.
The Invalides Complex
The complex of buildings known as
Les Invalides
sits in Paris's 7th
arrondissement
and consists of museums and monuments related to the military history of France. The most recognizable and well-known part of Les Invalides is the Dôme des Invalides,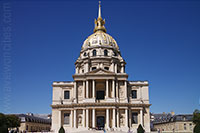 Dôme des Invalides
a gold-domed building now used as a burial site for a number of the country's war heroes.
Its History
Proposed by Louis XIV in 1670 as a home for "invalids" - disabled and impoverished war veterans, Les Invalides was designed by Libéral Bruant and completed in 1676.
That same year King Louis XIV - the Sun King - charged architect Jules Hardouin Mansart with the task of creating a separate private chapel at the Invalides for exclusive use of the royal family. It is this gold-domed church, completed in 1708 by de Cotte after Mansart died, that many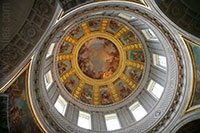 The painted dome
individuals recognize. Inspired by
Rome's St. Peter's Basilica
, this chapel, known as Église du Dôme, is considered one of the world's most exciting examples of French Baroque architecture.
The dome itself is 107 meters high (351 ft), making it one of the tallest monuments in Paris, and was centrally placed in order to dominate the court of honor - one of fifteen courtyards at the complex, designed for military parades. The inside of the dome was painted by Charles de La Fosse, disciple of eighteenth century well-known French painter, Charles Le Brun.
Napoleon's Tomb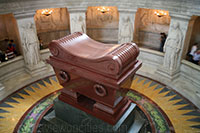 Napoleon's Tomb
Napoleon Bonaparte, whose last wish was to be buried at the banks of the Seine River, died on the island of St. Helena and was buried there until King Louis-Philippe decided to have his body exhumed and returned to Paris in 1840. He chose to have him entombed at Les Invalides.
In order to accommodate the tomb, architect Louis Visconti had to redesign the high altar of the domed church. Upon completion in 1861, the remains of Napoleon's body were then placed in six coffins inside a tomb, which was fashioned from red Finnish porphyry with a green granite base, and placed inside the crypt.
A dozen large figures are arranged around the tomb, intended to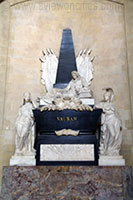 Vauban Memorial
represent Napoleon's victories. An accompanying statue of the French leader himself, dressed in coronation robes, stands nearby and measures more than 8 feet high (2.4 m), in stark contrast to the emperor's diminutive size.
Also buried at Invalides are several members of Napoleon's family as well as a number of prominent French military leaders and war heroes.
The memorial of Sébastien le Prestre de Vauban, marshal of King Louis XIV's army, was installed here in 1808 at Napoleon's request. The monument contains an urn with the ashes of Vauban. Another large monument in the Dôme des Invalides is the bronze tomb of marshal Ferdinand Foch, commander of the allied armies at the end of the first World War.

http://www.partner.viator.com/en/9347/tours/Paris/Guided-Tour-of-Napoleon-s-Tomb-and-the-Army-Museum/d479-5717P40
>
More Tours
Learning French?
Subway
La Tour-Maubourg (M8)
Varenne (M13)