This old square in the center of Montréal reflects styles from more than 100 years of French Canadian history.
Its Origins
The area known as the Place d'Armes (French for "parade ground") dates back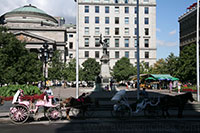 Place d'Armes
to the 17th century. Locals would come to this part of town, near the Rue Notre-Dame, to watch the members of the military engage in maneuvers. That accounts for the name eventually given to the square, which was established in the 1800s after the old Notre-Dame church was torn down and replaced with a new
basilica
.
Around the Square
The beauty of the area around the Place d'Armes is that the buildings surrounding the square are representative of so many diverse eras.
Montreal's first skyscraper sprung up along the square.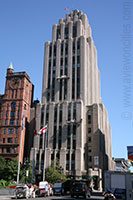 Aldred Building
The New York Life Building, completed in 1888, was a whopping eight stories tall and boasted the city's first elevator. Designed by architects Babb, Cook and Willard, an ornate clock tower added another three stories to the building. Sculptor Henry Beaumont enhanced the ornate exterior.
Steel skyscrapers appeared around the Place d'Armes in the second decade of the 20th century. The Royal Trust Bank and Duluth skyscrapers were clad in stone and both boasted 10 stories.
In 1929, an Art Deco gem was built on the square.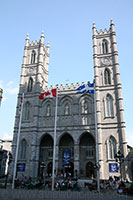 Notre Dame Basilica
The Aldred Building is an excellent example of the style and reflects one of Montreal's interesting architectural rules of the time, which stated that skyscrapers should all have "setbacks", designed to ensure natural lighting for the streets below.
In 1967, yet another skyscraper - this one indicative of post-war architecture - was built along the Place d'Armes. The National Bank of Canada Tower remains the only example of this style of architecture in the entire city.
Of course, the focal point of the square is the stunning
Notre Dame Basilica
.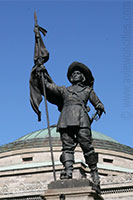 Paul Chomedey
de Maisonneuve
Built during the 19th century, this neo-Gothic masterpiece was said to have so moved its Protestant creator that he converted to Catholicism before he died.
The Monument
The many historic buildings surrounding the square take away the attention from the monument prominently situated in the center of the Place d'Armes. Erected in 1895, it honors the founder of Montréal, Paul Chomedey de Maisonneuve. Designed by Louis-Philippe Hébert, the work consists of several bronze figures indicative of the period during which they were created.
Subway
Place d'Armes (Orange line)