Montreal's most imposing monument honors Sir George-Étienne Cartier, a French-Canadian statesman who served as premier of East Canada. The monument is located on the edge of
Mount Royal Park
.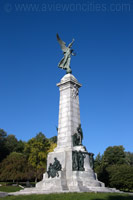 George-Étienne Cartier
Monument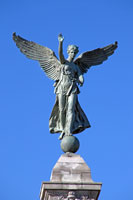 Glory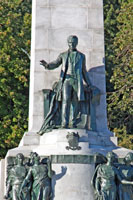 George-Étienne Cartier
In 1911 supporters of George-Étienne Cartier (1814-1873) raised the idea to create a monument in celebration of the 100th anniversary of the politician's birth. A campaign was launched to collect money and donations poured in from all corners of the British Empire, an attest to Cartier's worldwide appeal.

A competition was held to select a design for the monument and in September 1912 a committee opted for a monumental design created by sculptor George William Hill.

Construction started that same month under the guidance of Edward Maxwell and his younger brother William Maxwell, both architects. The inauguration of the monument was planned for 7 September 1914 but the outbreak of the First World War postponed the inauguration to the sixth of September 1919, exactly 105 years after Cartier's day of birth.
Sir George-Étienne Cartier
George-Étienne Cartier was one of the most influential politicians of his time. He was initially a patriot who fought in the unsuccessful rebellion against the British army.

Later he switched sides and promoted the creation of a federation of the British provinces in North America. He participated in the conferences that led to the adoption of the Canadian constitution and as such is seen a Father of the Confederation.

For many Canadians, he was a hero though a part of the Quebecois considered him a traitor. His first name is written in English (George instead of the French Georges), as his name was given in honor of King George III of Great Britain.
The Monument
The monument is the grandest in all of Montreal. It measures almost 31 meters tall (101 ft) and is adorned with eighteen bronze statues created by sculptor Joseph Brunet.
Crowning the monument atop a granite column is the allegorical figure of Glory. The winged woman holds a laurel wreath in her left hand, ready to crown George-Étienne Cartier, who stands below her in front of the column. In his hands he holds a document which bears the inscription "Avant tout soyons canadiens" (Above All, be Canadian). A bronze banner below the statue reads "Ô Canada, mon pays mes amours" (O Canada, my country, my love), the title of a patriotic song written by Cartier in 1835.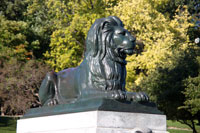 Lion guarding the monument
Below George-Étienne Cartier, leaning against the pedestal, are allegorical figures that represent the first four provinces of Canada: Ontario, Quebec, Nova Scotia and New Brunswick. Five women on the back side of the monument represent five provinces that joined the confederation later.
Other statues commemorate the creation of the Civil Code of Lower Canada, which replaced the different French, British and local laws in Quebec with one uniform Civil Code that was based on the Napoleonic code.
Four resting lions at the corners of the base guard the entrance to the monument. They symbolize the might of the British Empire.
Location
Avenue du Parc,
Mount Royal Park