Montréal's Cathédrale Marie-Reine-du-Monde (Mary, Queen of the World Cathedral) is Québec's third largest church and certainly one of its most beautiful.
History
The ornate Cathédrale Marie-Reine-du-Monde, considered a minor basilica in the Catholic Church, was built after fire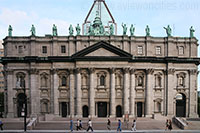 destroyed the Saint-Jacques Cathedral in 1852. Orders to build the church came from Monsignor Ignace Bourget, the second bishop of Montréal.
Bourget had issues with both the Protestants in the city and the Sulpician order, the feudal seigneurs of Montréal, who were all building their grand churches in the neo-Gothic style. Bourget insisted this new Catholic church needed to be different, so he sent architect Victor Bourgeau to
Rome
to study
St. Peter's
at the
Vatican
. Bourgeau returned to Montréal with the news that such a magnificent structure could not be repeated, but the monsignor wouldn't take no for an answer.
He proceeded to secretly send Father Joseph Michaud to Rome as well, and the priest - who had a keen interest in architecture -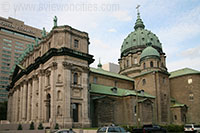 designed a one-fourth scale model of St. Peter's, which was to serve as the design for the new church. Construction commenced in 1875 and was completed nearly 20 years later.
When the church was completed, it was named Saint-Jacques Cathedral, in homage to the structure that burned to the ground 40 years prior. At its completion, it was the largest church in Québec. It was renamed in 1955 and is now a National Historic Site of Canada.
Interior
The magnificent interior closely resembles the inside of St. Peter's. The high altar even features a replica of favored Vatican artist Gian Lorenzo Bernini's vast baldachin (a permanent canopy of state that sits over the altar), which holds the same spot of honor in the Rome church. Made of gilded bronze, the ornate baldachin at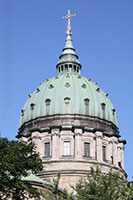 Cathédrale Marie-Reine-du-Monde was designed by architects Arthur Vincent and Olindo Gratton.
Exterior
On the exterior, the magnificent statues along the roof are the most striking part of the structure. Whereas, at St. Peter's the statues on the façade are of the 12 apostles, at Cathédrale Marie-Reine-du-Monde there are 13 statues that represent the patron saints of the parishes which form the diocese of Montréal. The cathedral's green copper dome is easy to see from various parts of town, rising over homes and other buildings in this largely Protestant area of downtown Montréal.
A good portion of the Cathedral's narthex and esplanade were reconstructed in 2005 and the building continues to be a popular tourist attraction for those visiting the city.
Subway
Bonaventure (Orange line)
Location
1085 Rue de la Cathedrale