True shopaholics and fashion aficionados headed for Italy have no doubt heard that they need to make a stop at the Quadrilatero della Moda (Fashion District) in Milan.
Shopping...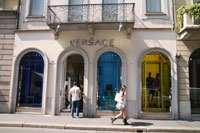 Versace
Indeed, Milan's Fashion District provides some of the best shopping opportunities in Europe, especially for those with discriminating tastes who seek the best that money can buy. It attracts not only tourists but also Milan's "beautiful people", so shopping there is a great opportunity to hobnob with the affluent locals.
Most first-time visitors are simply awed and overwhelmed by the large concentration of haute couture labels. And while not everyone can afford a Versace or Armani, it's fun to window shop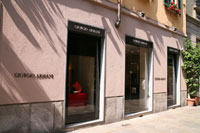 Armani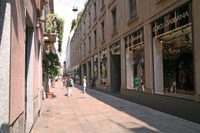 Dolce & Gabbana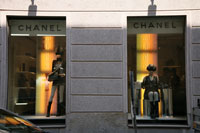 Chanel
and there are a few more affordable stores available for "normal" folks on a limited budget as well.
...and Culture
And there's more than just fashion in this centrally located neighborhood. Graceful mansions from the seventeenth to nineteenth centuries line the streets, so architecture buffs will find something to admire as well. Since the nineteenth century this area has been known as the Quadrilatero d'Oro (golden quadrilateral), a name that stems from all the palatial buildings that were erected here by wealthy citizens.

Several of these mansions are home to museums, such as the Museo Bagatti Valsecchi, which is housed in a luxuriously decorated mansion in the Via Gesù.
The Streets
The area defined as the Fashion District includes such famous streets as Via Montenapoleone, Via Della Spiga and Via Manzoni. Most of these streets are pedestrianized, making this area perfect for an afternoon stroll. Each of the streets has its own list of design houses. He's a rundown of what you'll discover on some of these famed streets:
Via Montenapoleone
Known by locals as the Montenapo, the Via Montenapoleone is the most famous street in the Fashion District. It is named after a bank - the Monte Napoleone - that was located here until the early nineteenth century.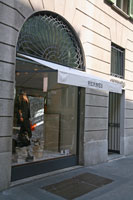 Hermès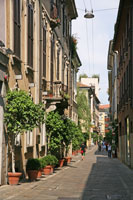 Via della Spiga
This was the first street known for its luxurious fashion. Visitors can now head to the stores/workshops of such renowned designers as Gucci, Versace, Luis Vuitton and numerous others. It takes hours to literally explore all the stores on the Via Montenapoleone, especially if you're intent to buy.
Via Sant'Andrea
On this lovely street, look for designers such as Chanel, Armani and Hermès, just to name a few. But there's more than just fashion stores here: the Museo di Milano, a museum that documents the history of the city, is housed in the eighteenth century Palazzo Morando Attendolo Bolognini.
Via della Spiga
Who wouldn't love shopping on this wonderful pedestrianized street. Once the domain of bakeries, the street is now home to designer stores such as Bulgari, Krizia, Sergio Rossi, Dolce and Gabbana and numerous others. Some of those names may not be familiar to everyone, but most Italians and others who are haute couture followers are familiar with the work of these designers.
Via Manzoni
The Via Manzoni is the widest of the streets in the Fashion District, but unfortunately less pleasant due to the heavy traffic. The street is home to the elegant Grand Hotel et de Milan and several impressive palazzi, one of which is home to the Museo Poldi Pezzoli, a private museum where you find a fine collection of tapestries, paintings, sculptures, weaponry and decorative arts.
Palazzo Bagatti Valsecchi
And there's also a long list of fashion stores in this street as well, in particular retail stores of a whole array of reputed fashion designers.
Via Bigli and Via Gesù
The oldest mansions in the area can be found in de Via Bigli, the oldest of which were built in the late sixteenth and early seventeenth centuries. The neo-Renaissance palazzo Bagatti Valsecchi in the Via Gesù is home to the Museo Bagatti Valsecchi, which displays the original nineteenth century furniture and art collection of the Valsecchi family.
Milan Fashion District Tour
http://www.partner.viator.com/en/9347/tours/Milan/Milan-Fashion-District-Tour/d512-17024P10
Learning French?
Subway
Piazza San Babila (M1)
Location
Area rougly bounded by Via Manzoni, Via della Spiga, Corso Venezia and Via Bigli