The Piazza del Duomo is Milan's most beautiful square. It is dominated by the magnificent front facade of the
Duomo
(cathedral). At the center of the square stands a monument honoring the first king of a unified Italy.
Piazza del Duomo
As early as during the Roman era this area was the heart of Milan. Later, during the Middle Ages, when there were several churches clustered together here, it was the center of religious life in Milan. Today the expansive Piazza del Duomo is a popular meeting place and it is constantly crowded with tourists and locals alike.
Creation of the Piazza
In 1859, when the cathedral was close to completion after a construction period of almost five hundred years, the city of Milan decided it was time to create a large square at the foot of the
cathedral
.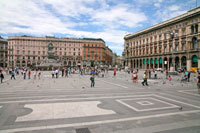 Piazza del Duomo,
view from the Duomo
It launched a competition for the design which attracted 176 participants. The Italian architect Giuseppe Mengoni was selected as the winner.
Mengoni designed a wide open square flanked by grand buildings to offset the dominance of the enormous
Duomo
. At the same time he also designed a monumental glass-covered
arcade
to connect the new square with the just completed
Piazza della Scala
, the square in front of Milan's most famous theatre, the
Teatro alla Scala
.
To create the square and surrounding buildings, a whole neighborhood right in the heart of historic Milan had to be demolished. Construction started in 1862 and the project took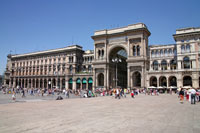 Palazzo Settentrionale
about twenty years before it was finally completed.
Buildings
Attracting all the attention is the
Duomo's
magnificent Gothic facade of white marble, decorated with numerous statues. One gets the best view of the square from the roof of the cathedral where the geometric pavement pattern becomes visible.
If it weren't for the
Duomo
, the piazza's north side would be the square's highlight. Here the square is defined by the arcade of the Palazzo Settentrionale which is interrupted by the monumental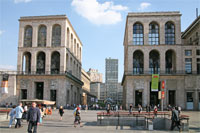 Propylaea
triumphal arch that marks the entrance of the equally monumental
Galleria Vittorio Emanuele II
, a five story high glass-vaulted arcade which was completed in 1877.
Opposite the Galleria is the Palazzo Meridionale - similar in style to the Palazzo Settentrionale - which is bordered on the east side by two symmetrical, three story high modernist structures known as the propylaea. The two buildings, with stark unornamented loggias, seem out of place here. They replaced the Manica Lunga, a historic building that was demolished in 1937.
Statue of Victor Emmanuel II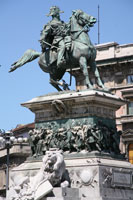 Victor Emmanuel II
In 1896 an impressive monument was installed at the center of the Piazza del Duomo in honor of Vittorio Emanuele II (Victor Emmanuel II), who in 1861 became the first king of Italy.

An equestrian statue set on a marble pedestal shows the king leading his troops to battle, flanked on either side by a large lion. Reliefs on the sides of the pedestal show soldiers ready for combat. The monument, which is set on a massive platform, was created by Ercole Rosa, an Italian sculptor.