The Royal Courts of Justice building has been home to the High Court of England and Wales since the late nineteenth century.
Building the Courts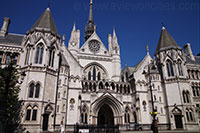 Royal Courts of Justice
The idea for a new Royal Courts building was proposed in 1866 and followed by an announcement by Parliament of a competition for architects who wished to create a design for the new structure. Ironically, the winner would be an architect who was also a lawyer/solicitor - Mr. George Edmund Street.
Groundbreaking for Street's Victorian Gothic design happened in 1873 and it took more than eight years to build the structure, largely because of a nationwide masons' strike that caused a temporary stoppage of work at the future home of the Royal Courts of Justice. Parliamentary officials brought in workers from other European countries to complete the job but the hiring of these individuals caused so much ruckus that work did not continue on schedule until all labor disputes were resolved.
Queen Victoria opened the building in December 1882, accompanied by much fanfare. Unfortunately, the architect - who designed the entire exterior of the building including all the ornamentation - died before his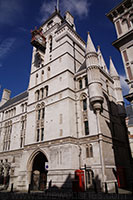 Clock Tower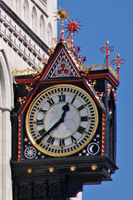 The clock
masterpiece was finished.
Architecture
In total, it cost about £2.2 million to purchase the land and build the structure that would be the Royal Courts.

The main entrance features two very ornate porches fitted with iron gates and leads to the cavernous Great Hall, which is built in cathedral nave style. It features soaring arches and breathtaking stained glass windows featuring the coats of arms of Lord Chancellors and keepers of the Great Seal. There's also a beautiful mosaic marble floor. Today, this portion of the building can be rented for large events.

Outside, the carvings on the porches are a mix of secular and religious. Above the outer porch, one can find heads of England's most prominent lawyers and judges of that era, but you'll also find Jesus, Moses, and King Solomon as well as a somewhat whimsical carving of a cat and dog, meant to depict opposing litigants.

The gateways on either side of the main entrance lead to courtrooms as well as jury and witness rooms, robing rooms, and consultation rooms. Many of the original courtrooms are paneled in oak and each has a different design as they were created by a variety of architects.
Expansion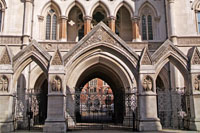 Triple portal
The first extension to the building was made less than thirty years after its completion and was designed to house more divorce courts. This is known as the West Green Building. No other additions were made until 1968, when the Queen's Building was added, providing yet more courtrooms. In addition, cells for criminal proceedings were added in the basement. In 1990, the Thomas More Building was added to house additional bankruptcy courts. Little room remains for any additional expansion projects though some large courtrooms have been subdivided to provide additional space.

In total, this immense building now measures 470 feet (approximately 143 meters) from aast to west; 460 feet (approximately 140 meters) from north to south; and 245 feet (approximately 74 meters) from ground level to the top of the spire.
Learning French?
Subway
Temple (Circle, District)