Touted as "London's favorite tourist attraction", the statues at Madame Tussauds Wax Museum have been thrilling visitors since Tussaud opened her first permanent exhibit in 1835.
About Madame Tussaud and Her Wax Museum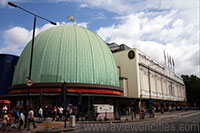 Madame Tussauds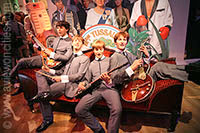 The Beatles
Marie Tussaud (1761-1850), a native of Strasbourg, France, learned the fine art of sculpting from her mother's employer, a physician skilled in the art of wax modeling. The doctor, Philippe Curtius, was one of the first to display such works of art, opening an exhibition in 1776. Young Marie made her first sculpture at the tender age of 16, fashioning a likeness of French enlightenment writer, François Voltaire.
Her first solo exhibit appeared on Baker Street in 1835 followed by her famous Chamber of Horrors collection in 1845, where Madame Tussaud displayed a collection of death masks that she had made of the victims of the guillotine during the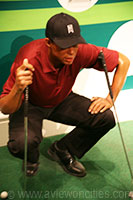 Tiger Woods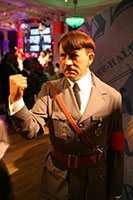 Hitler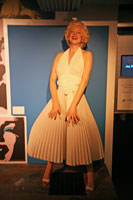 Marylin Monroe
French Revolution in
Paris
. In the meantime, she added many likenesses to her collection.
In 1884, several decades after her death, Madame Tussauds Wax Museum moved to its current location on London's Marylebone Road, where millions have stood on queue for hours to get a glimpse at her work and that of her successors.
The current museum suffered a fire in 1925 and many statues were lost. However, the molds remained intact and several of the pieces were recreated. It is now one of London's busiest attractions and during peak tourist season, it is common to encounter long lines that stretch for blocks. The museum started an overseas expansion in 1970, when it opened a branch location in
Amsterdam
. Today it has expanded to many more cities including Las Vegas,
New York City
,
Hong Kong
, Shanghai,
Washington DC
and Hollywood.
What You'll See
Tussaud and her successors have fashioned literally thousands of replicas of famous people. Visitors can view world leaders, actors/actresses, sports legends, famous writers and artists, religious figures, musicians, and a host of other characters. Besides those displays there's also several themed sections in the museum including the Chamber of Horrors and an taxi ride for a journey through history.
While the London museum has a decidedly British slant, visitors from all over the world will recognize a majority of the characters.
Average Rating:
Duration: Flexible
http://www.partner.viator.com/en/9347/tours/London/Skip-the-Line-Madame-Tussauds-London/d737-2798TUSSAUDS
Average Rating:
Duration: 1 Day Pass
http://www.partner.viator.com/en/9347/tours/London/Madame-Tussauds-and-Thames-River-Sightseeing-Cruise/d737-3542MADAME
Subway
Baker Street (Bakerloo, Jubilee, Metropolitan, Circle, Hammersmith)
Location
Marylebone Road, NW1 5LR