Named for the 2nd Earl of Leicester, London's Leicester Square is at the heart of the city's prime entertainment district. The square is embellished with several monuments including a fountain dedicated to Shakespeare.
History of the Square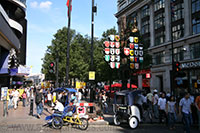 Leicester Square
Situated in an area that was once part of a four-acre (1.6 ha) tract owned by Robert Sydney, the 2nd Earl of Leicester, Leicester Square was open to the public around 1640 after locals protested the privatization of the land that was once common ground.
Development of the area began around 1670 and it quickly became a fashionable place to live as homes sprung up around the original Leicester House which, for some time during the very early 1700s, was the home of Frederick, Prince of Wales.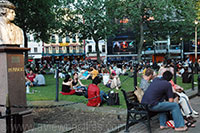 By the late 18th century, however, the character of the square changed and it soon became an area known for its entertainment venues, one of the first of which was a "museum of natural curiosities" known as the Holophusikon.
By the 19th century, more entertainment facilities sprung up around Leicester Square, including Wyld's Globe, which was built for the International Exposition and housed a giant scale map of the world; and the 1854-built Alhambra, which for many years dominated the square. It was joined thirty years later by the Empire Theatre of Varieties. All would help to establish Leicester Square as the heart of the West End entertainment district.
Theatreland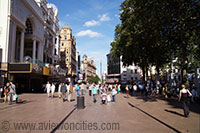 The square is car-free and can be very crowded, especially on weekend evenings. It is often the starting point for people who want to visit one of the many cinemas, theaters, snack bars and restaurants that are in the neighborhood.

Several major cinemas line the square, giving it its nickname "Theatreland". Visitors will also find a "TKTS" half-price ticket booth here, where discount tickets can be purchased for popular West End shows and musicals. A handful of TV and radio stations also have their headquarters at Leicester Square.
Shakespeare Fountain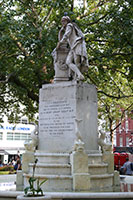 Shakespeare
Memorial Fountain
But the square itself has some interesting sights as well. In the center of the square, for instance, visitors will find a garden. In the middle of the garden is a marble fountain with a statue of William Shakespeare surrounded by dolphins. The fountain, created by Giovanni Fontana in 1874 is known as the Shakespeare Memorial Fountain.
Statues
At each corner of the park is a statue of another famous Londoners, including Sir Isaac Newton, Sir Joshua Reynolds, John Hunter, and William Hogarth. Another likeness, that of Charlie Chaplin, was created by John Doubleday and added in 1981.
In addition, the square is surrounded with floor plaques that include the names and handprints of famous actors, similar to those found at the Walk of Fame in Hollywood, California.
Subway
Leicester Sq. (Piccadilly, Northern)