Ever since it was built in the early fifteenth century, the Guildhall has been the home of the Corporation of London, the governing body of the Livery Companies - guilds - in the
City of London
.
Even today the Corporation of London, presided by the lord mayor, governs the
City of London
(with the City referring to London's historic heart,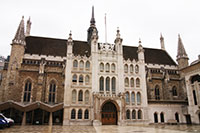 Guildhall
also known as the
Square Mile
and not Greater London). The lord mayor is assisted by twenty-four aldermen who govern one of the twenty-four districts in the City, known as wards.
The Building
The Guildhall was built from 1411 to 1429 by master mason John Croxton and was the third such building at this site. It is the only secular stone building that survived the Great Fire of 1666, although much of the interior was destroyed. The current front facade dates back to 1788 when it was reconstructed in a mixture of neo-Gothic and oriental styles. The medieval porch however is still authentic even though some additions were made in 1671.
The roof - which had been rebuilt after the fire of 1666 - was destroyed again in December 1940 during the blitz,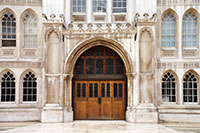 The porch
and replaced with the current roof in 1954.
Interior
The grandeur of the building becomes apparent in the Great Hall. Measuring 46 by 14.6 meters (151 x 48ft) the grand medieval hall was long the largest civic hall in England. The hall is decorated with banners of the city's twelve guilds. A number of statues, depicting national heroes can be found in the hall. Some of the most famous British immortalized in the hall are admiral Nelson, with a sculpture created by James Smith in 1806-1810, duke Wellington sculpted by John Bell in 1856 and a seated bronze statue of Winston Churchill, cast by Oscar Nemon in 1955.
Another impressive hall is the Old Library, which used to house the Guildhall's library and museum. The library moved to a more modern building nearby and the museum is now part of the
Museum of London
. In the Guildhall's art gallery, a collection of paintings collected by the Corporation of London is displayed.
The Guildhall's undercroft
Below the Guildhall are two crypts. The oldest crypt, situated to the west, was restored in the 1970s and was probably built in the thirteenth or early fourteenth century. The other, more impressive crypt was built by John Croxton although its foundations go back to the eleventh century.

Excavations carried out at the Guildhall Yard in front of the Guildhall between 1988 and 1995 revealed the remains of London's only Roman amphitheater, situated six meters below ground.
Guildhall Library
A unique collection of illustrations, drawings and books about the history of London as well as other historic books is housed in a more recent, adjoining building west of the Guildhall. The same building is also home to the Clockmaker's Company Collection, a museum with a collection of clocks and watches, mainly from the seventeen and eighteen centuries.
Subway
Bank (Central, Northern, Waterloo & City, Circle, District)
St. Paul's (Central)
Location
Guildhall Yard, near Gresham Street, EC2