One of London's most modern buildings, City Hall houses the Greater London Authority (GLA) including the mayor of London and the London Assembly. The GLA is responsible for the administration of Greater London.
A Startling New Design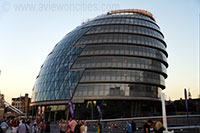 City Hall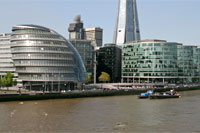 More London
Completed in July 2002 and situated on the south bank of the Thames River near the
Tower Bridge
, City Hall was designed by the firm of the well-known British architect Norman Foster, who also designed the
Gherkin
and the
Millennium Bridge
in London. He was also responsible for the renovation of Berlin's famed
Reichstag
.
The subject of some controversy among those who dislike modern architecture, the bulbous-shaped building has been compared to a misshapen egg, a motorcycle helmet, and an onion. Designers say they chose this particular shape for the glass and steel structure because it reduces surface area and makes the building more energy efficient.

The building is part of a complex known as More London, which includes shops, offices, and a sunken amphitheatre (The Scoop) that is the site of many summer open-air concerts and other arts performances.
Interior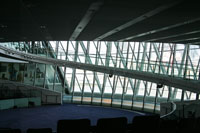 Assembly Chamber
Enter City Hall in London and the first thing you'll notice is the long helical walkway, which measures about five hundred meters (1,640 feet) and ascends from the bottom all the way to the top of the building, which measures ten stories tall. The walkway provides excellent views of the interior and the river, and at the top of the ramp is a large exhibition hall known as "London's Living Room", which is sometimes opened to the public.
The building includes an assembly chamber with seating for 250 members of the public. There's a total of about 17,000 square meter (185,000 sq ft) of floor space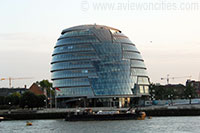 View from across the Thames
inside the egg-shaped building and the office space inside is flexible - able to be subdivided, when necessary, with solid or transparent partitions.
Green
Windows can be opened for natural ventilation and the building leans back towards the south to avoid the most intense direct daytime sunlight. Cold ground water air conditions the building and there are no "chillers" (air conditioners) inside. In addition, solar panels were installed on the roof to reduce electrical consumption, making City Hall one of London's "greenest" buildings.
Subway
London Bridge (Northern, Jubilee)
Location
The Queen's Walk, SE1