Canary Wharf is a modern high-rise business district located at the former West India Docks on the Isle of Dogs, east of London. Some of the city's tallest and most modern skyscrapers can be found here.
Docklands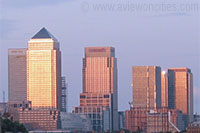 Canary Wharf
The Docklands, a large area along the Thames riverfront on the eastern edge of London, was once home to the world's busiest port.
In the 1960s, after the construction of the Thames Barrier - a storm surge barrier - and a modern container port in Tilbury, activity in the area came to a halt. The many wharves and warehouses fell into decay.
London Docklands Development Corporation
In 1981 Margaret Thatcher's government founded the London Docklands Development Corporation. Its purpose was the revitalisation of some 2100ha of docks (8 sq. mi).
The first large-scale private development plan, the Canary Wharf Project, was launched in the mid-1980s. The Canadian developer Olympia & York bought the project and started construction in 1988 of what would become the heart of the Docklands redevelopment.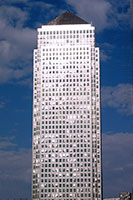 Canary Wharf Tower
Canary Wharf Tower
The first office tower,
Canary Wharf Tower
, was built in 1990. At 800ft (243m) the pyramid-topped steel tower was the tallest building in Europe until the completion of the
Messeturm
in
Frankfurt
, Germany that same year.
Many more office towers were planned but British corporations were reluctant to relocate to the remote site. Despite a promise by Margaret Thatcher, there was no underground connection and the site lacked shopping areas and restaurants.
To make matters worse, in 1992 a recession caused the property market to collapse. The developer went into bankruptcy and the whole project seemed to be an enormous failure.
A Booming District
The tide turned during the second half of the 1990s. The property market revived and the development project was bought by an international consortium backed by the former owners of Olympia & York.
And finally in 1999 the underground Jubilee line was extended to the
Millennium Dome
, with a stop at Canary Wharf.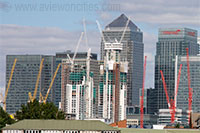 Now only 30 minutes from the heart of London, Canary Wharf started to attract more and more tenants, mostly financial institutions.
The working population in the area rose from 13,400 in 1996 to about 90,000 in 2006. Canary Wharf now boasts a cluster of skyscrapers and is already dubbed Manhattan on Thames. More importantly the area also started to attract residents, a shopping mall, bars and restaurants.
With much more growth expected for the coming years and decades, London's most modern district is poised to also become its most dynamic.
Subway
Canary Wharf (Jubilee, Docklands Light Railway)