Frankfurt's Museum of History traces the history of the city from prehistory to the modern times. Scale models show Frankfurt's old town before and after the destruction of the war.
Saalhof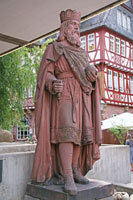 Statue of Charlemagne
in front of the museum
The museum is housed in a large complex known as the Saalhof, originally built in the twelfth century between
Römerberg
and the Main riverfront as a Romanesque palace. The complex incorporates five historical buildings as well as a modern concrete structure built between 1969 and 1972.
The construction of this modern building caused an outcry even before it was completed since its exterior clashed with the surrounding historic architecture. Those opponents will be happy to know that the concrete building was torn down in 2011. The five historic buildings that were hidden behind the 1970s structure - including the Saalhof and Burnitz buildings - have been restored.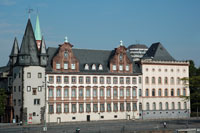 Saalhof & Burnitz Building
Close to fifty architects participated in a design competition for a new museum building, out of which a design by LRO Architecten was chosen. The new low-rise building, with a classic gable roof, is intended to fit in harmoniously with the adjoining medieval buildings. The new structure is expected to open in 2017.
The Museum
The museum's displays recount the rich history of the city of Frankfurt, with a particular focus on medieval Frankfurt - when the German emperors were crowned in the
Kaiserdom
- and on the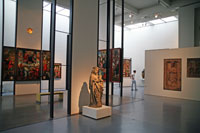 The Middle Ages
turbulent era before and during the Second World War.
Historic paintings, retables, sculptures and artifacts such as the nineteenth-century copy of the coronation insignia of the German emperors are on display in the medieval exposition.
Paintings, photographs, film and all sorts of items including domestic utensils and furniture are used to show the evolution of Frankfurt towards the twentieth century.
Scale Models
The most popular attraction in the museum is a set of three scale models. The scale models were created
between 1926 and 1955
by the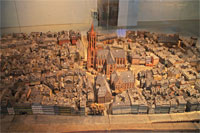 Medieval Frankfurt
brothers Hermann and Robert Treuner.
The largest of the three models shows Frankurt's Inner City in the Middle Ages and shows a city center full of half-timbered houses. The two other models show the inner city after it was obliterated by two large bombardments in March 1944 and after it was reconstructed in the mid 1980s. The scale model of the destroyed city is particularly telling.