At the time the Sears tower was constructed in 1974, it was the world's tallest building, eclipsing
New York
's twin-towered
World Trade Center
by 25 meter (83 ft). It would keep the title of tallest building in the world until the Petronas twin towers in Kuala Lumpur, Malaysia were constructed in 1997.

Sears Tower
The Tallest
There was much discussion on whether the Petronas towers are actually taller than the Sears tower as the height of the antennas on the Petronas towers are included in the total height, while the height of the antennas are not included in the height calculation of the Sears tower as they are not considered an actual part of the building. With the construction of the 508m high Taipei 101 tower in 2004 this discussion became irrelevant.
Anyhow, the Sears tower is still the tallest Chicago skyscraper, exceeding the height of the number 2, the
Trump International Hotel and Tower
by 27 meter (89 ft) and the
Aon Center
by 96 meter (315 ft).
The Structure
The building consists of nine framed tubes, which are actually nine skyscrapers on themselves taken together into one building. Originally, the plan included no less than 15 tubes, but when the planned hotel was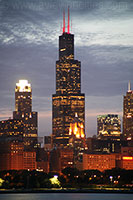 Sears Tower at dusk
taken out of the project, only nine tubes were used in the final designs. The nine tubes all reach forty-nine stories. At that point, two tubes end. The other rise up to the sixty-fifth floor. From the sixty-sixth to the ninetieth floor, the tower has the shape of a crucifix. Two tubes, creating a rectangular, reach the full height of 442 meter (1451ft).
Wind Load
The result is an interesting tower, which looks different from all angles. The construction, designed by Fazlur Kahn (1929-82), has other advantages : the construction with separate tubes provides lateral strengths to withstand the strong Chicago wind loads, as each tube only needs to take a part of the pressure.
Observation Deck
The Sears Tower's observation deck - known as the skydeck - is one of Chicago's most popular attractions. At 1,353 ft or 412 m, it's Chicago's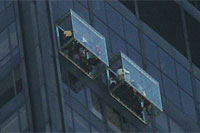 Ledges on the Sears Tower
highest observatory, besting the
John Hancock Center's
by 323 ft (98m).
The most spectacular attraction at the skydeck is 'the ledge', a glass balcony extending 4.3 ft where you can look straight down. It will make most people feel uneasy at first but the balconies offer spectacular views over Wacker Drive and the
Chicago River
. More info about the skydeck can be found on this website:
www.theskydeck.com
Willis Tower
The tower was named after Sears, Roebuck and Co., an American chain of Department Stores which was headquartered here. Sears sold the building in 1993 after moving to the suburbs. The building's name was left unchanged until Juli 16, 2009, when it was renamed Willis Tower for one of the skyscraper's tenants, a British insurance firm. The move was met with local opposition however, and some even started online petitions to protest the name change.
52
Location
233 S. Wacker Drive
Subway
Quincy (orange, purple, brown)