The London Guarantee Building, now better known as 360 North Michigan Avenue, is a remarkable landmark in Chicago, situated at a prominent site at the Chicago River at the termination of Wacker Drive.
Construction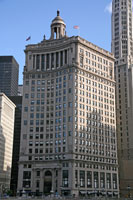 London Guarantee
Building
It was built by Alfred Schuler for the London Guarantee and Accident Company, just after the completion of the neighbouring
Wrigley building
in 1922.
Classical Influences
Due to the special shape of its site, the 22-story limestone building has a trapezoidal ground plan. It is full of classical references: the central arched entrance is flanked by four corinthian columns; the three top stories above the fifteenth floor repeat the row of classical columns. The construction is topped by a Greco-Roman tempietto.
Subway
State/Lake (loop & red)
Location
360 N. Michigan Avenue