Chicago History
Louis Jolliet, a Canadian explorer, and the French-born Jesuit Jacques Marquette were the first Europeans to discover the Chicago area in 1673 with the help of local Indians.
1673 - First Europeans discover Chicago area
1781 - First permanent settlement by Jean Baptiste Point du Sable
1832 - Chief Black Hawk defeated
1837 - Chicago is incorporated as a city
1871 - The Great Fire
1885 - The first skyscraper
1893 - World Columbian Exposition
1909 - The Chicago plan
1943 - Chicago's first subway opens
1973 - Sears Tower completed
2004 - Millennium Park opens
First settlement
The first permanent settlement was founded in 1781 by Jean Baptiste Point du Sable, an African American from Santo Domingo. The location at the mouth of the Chicago river was chosen for its strategic value for a trading post as the river connected the Lake with the Mississippi river. Later the area at the mouth of the Chicago river was occupied by a military base, Fort Dearborn. The fort was regularly atacked by Native Americans, until Chief Black Hawk was defeated in 1832. One year later, Chicago was officially incorporated as a town and four years later, when the population reached 4170, as a city. Its name was derived from the native indian's word describing the area.
Great Chicago Fire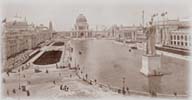 Chicago World Fair
With the arrival of the railroads, the city of Chicago really started to boom reaching a population of 300,000 in 1870.
One year later, disaster struck with the
Great Chicago Fire
laying the city in ashes. The fire destroyed about 17450 buildings, but the Chicagoans quickly started to rebuild the city. Just six weeks after the fire, construction of more than 300 buildings had already begun. And by 1893 Chicago had recovered well enough to host the
1893 World Columbian Exposition
, commemorating the discovery by Columbus of America 400 years ago.
1909 Chicago Plan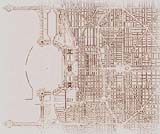 Chicago Plan
The foundations of today's Chicago were laid out by some of the leading architects reconstructing the city after the Great Fire.Daniel Burnham designed the first visionary urban plan for a city, the
1909 Chicago plan
. It was nicknamed '
Paris
on the Prairie' and included wide boulevards and parks.
By the end of the nineteenth century the land prices in the city had risen dramatically, which lead to the construction of taller buildings. In 1885, William Le Baron Jenney built what is known as the first skyscraper in the world : the Home Insurance Building. Demolished in 1931, it was 55 meters tall and included 9 stories, later extended to 11. It was built with a load-carrying structural frame, which would be the basic structure for all later skyscrapers. This building marks the start of Chicago as a pioneering architectural city. Many famous architects like Louis Sullivan and later Mies van der Rohe would set new standards for urban architecture in Chicago.