Unter den Linden, a main east-west thoroughfare through the city of Berlin, earned its name from the rows of linden trees that were first planted there more than three-and-a-half centuries ago.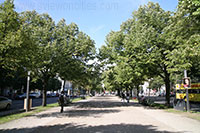 Unter den Linden
The Trees
Duke Friedrich Wilhelm, also known as The Great Elector, was dedicated to the development and beautification of Berlin during his reign in the mid-1600s. In order to spruce up the route from his castle home to the
Tiergarten
hunting ground, it is said that Friedrich ordered the planting of long rows of Linden trees, which would also serve to keep the route more shady and comfortable for his travels. That means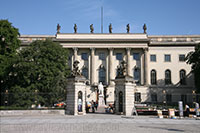 Humboldt University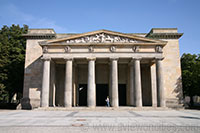 Neue Wache
his carriage ride would have him traveling "unter den linden"; literally, under the lindens.
The Street Grows
Nearly a century later, Friedrich II expanded the boulevard by adding his collection of cultural buildings to the area, including the Berlin state opera house and the state library, making Unter den Linden larger and even more popular.
By the nineteenth century, it was one of the most visited streets in the city and served as a central gathering place for many Berlin citizens.
After the victory over Napoleon, the street was furnished with large, new buildings - including the neo-classical
Neue Wache
, which served as the guardhouse for the royal guards and is now the National Memorial to the Victims of War and Tyranny. It's considered to be the finest masterpiece of German architect Karl Friedrich Schinkel. A plethora of statues standing in homage to the great generals of the German army were also erected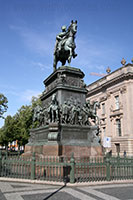 Statue of Friedrich II
along the street.
Statue of Friedrich Wilhelm
One statue still standing today is the impressive
equestrian statue of Friedrich II
. The massive bronze monument was created between 1839 and 1851 by Christian Daniel Rausch. After the war the statue relocated by the rulers of the GDR but now it has its place again at the center of Unter den Linden.
The Effects of World War II
By the end of World War II, Unter den Linden was little more than rubble and the magnificent Linden trees were said to be cut down and used for firewood in the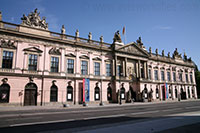 German Historical Museum
final days of the war.
In the 50s and 60s, new homes and buildings were erected along Unter den Linden in the Reconstructionist style that was typical of that era.
Today, you'll still find a number of wonderful architectural sites along Unter den Linden, many of which have been renovated or restored over the years. They include the expansive Humboldt University, the Zeughaus (German Historical Museum), the Staatsoper, Altes Palais, Staatsbibliothek and the
Schloßbrücke (Palace Bridge)
, at the far eastern end.
Subway
Brandenburger Tor (U55, S1, S2, S25)
Französische Strasse (U6)
Location
Between the Schloßbrücke and the Brandenburger Tor