The Soviet War Memorial at the
Tiergarten
is one of several such memorials erected in Berlin by the Soviet Union to honor its war dead.
History of the Memorial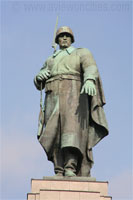 Soviet Soldier,
Soviet War Memorial
Erected just a few months after the capture of the city of Berlin in 1945, this Soviet War Memorial sits in the
Tiergarten
, a large public park situated to the west of the city on June 17 Street, not far from the
Brandenburg Gate
. The Tiergarten was located in the British sector of the city but the building of the memorial was supported by all World War II allied powers.
When the memorial was first built, it sat among the ruins of the park, which had been destroyed by bombs and stripped of firewood by Berliners who needed timber to make heat for their homes.
Until the end of the Cold War, the memorial was guarded by several Soviet soldiers, even though it was located in the British sector of Berlin.
The Design of the Memorial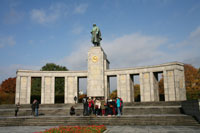 Soviet War Memorial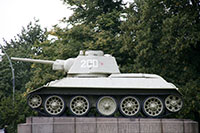 T34 Tank
The Soviet War Memorial is a curved, columned stoa (or covered portico) with one central column atop which sits a bronze statue of a Soviet soldier. The gardens around the memorial are beautifully landscaped, but on each side of the stoa sits a few items not quite so beautiful - two T-34 tanks, allegedly the first two that arrived in the city.
Underneath the huge bronze soldier are a gold crest and a Cyrillic inscription which reads "Eternal glory to the heroes who fell in battle with the German fascist occupiers for the freedom and independence of the Soviet Union". The soldier's arm is raised to symbolize the crushing of the German National Socialist party by the Soviet army.
The memorial is currently maintained by the city of Berlin, but many modern day Berliners are not happy that this memorial remains standing and have given it less-than-complimentary nicknames. Nevertheless, the Soviet War Memorial at the
Tiergarten
is still host to a number of annual commemorative activities including a VE Day celebration in May 8th. It is also a popular tourist attraction for Russian visitors to the city.
Subway
Brandenburger Tor (U55, S1, S2, S25)
Bundestag (U55)
Location
Strasse des 17. Juni