The Siegessäule is a Victory column in
Tiergarten
, a large park in the center of Berlin. The column is adorned with mosacis and topped with a gilded allegorical statue of Victory.
Tiergarten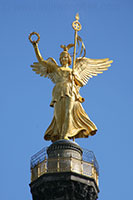 Goldene Else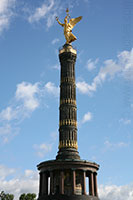 Siegessäule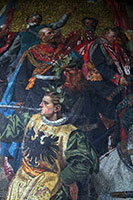 Mosaic frieze detail
In the 1830s, the two hundred hectare (495 acre) large Tiergarten, a Royal hunting estate, was turned into a park. Centrally located between Mitte and Charlottenburg it is a favorite picnic and barbecue place. At the center of a large roundabout in the Tiergarten, known as the Grosser Stern or great star stands the tall Siegessäule.
The column and statue
The cocky looking triumphal column was built from 1864 to 1873 after a design by Johann Heinrich Stack to commemorate the Prussian victory in the Prusso-Danish war of 1864. The 8.3m (25ft) gilded figure at the top was added after further Prussian victories in wars against Austria and France. The figure, designed by Friedrich Drake and locally known as the 'Goldene Else' represents the Goddess of Victory. The gilded statue weighs a massive 35 tons.

The base is decorated with bas-reliefs of battles, while a mosaic frieze by Anton von Werner higher up the column depicts the founding of the German Empire in 1871. A number of other mosaics at the colonnaded hall portrait more battle scenes.
Location
The now 69 meters tall victory column originally stood at the Königsplatz (now Platz der Republik), the square in front of the
Reichstag
. It was moved in 1938 by the Nazi government to its current location at the Grosser Stern.
Observatory
Subway
Hansaplatz (U9)
Bellevue (S5, S7, S75)
Tiergarten (S5, S7, S75)
Location
Grosser Stern, Tiergarten