Known by Berliners as 'Alte Fritz', this statue of Frederick the Great atop his favorite horse is one of several sights at the historic
Unter den Linden
Boulevard.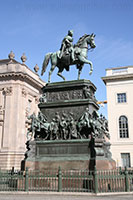 Visitors to Berlin have the opportunity to view quite a number of statues or sculptures, but the Reiterdenkmal Friedrichs des Grossen (Equestrian Statue of Frederick the Great) is among the grandest in the city.
Design
Historians say that it took nearly seventy years, forty artists, and one hundred designs to determine the final plan for the equestrian statue of the much-revered Frederick the Great, who reigned as king of Prussia from 1740 until 1786. Finally, construction of the statue began in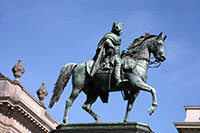 Frederick the Great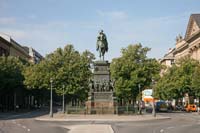 Unter den Linden
1839 under the watchful eye of its creator, Christian Daniel Rauch.
Rauch had devised his design nearly ten years before construction actually began, and by the time it was completed in 1851, the artist had spent nearly twenty years of his life working on this single project.
The Statue
The 13.5 meter high (44ft) statue sits on the
Unter den Linden
between The State Library and Humboldt University. It spent several years in
Potsdam
at the
Sanssouci Palace
before being returned to Berlin in 1980.
The bronze statue is wonderfully ornate and a treat for the eye. Frederick sits atop Conde, his favorite horse, dressed in his formal uniform - coronation robes, tri-cornered hat, and top boots. He carries a long stick.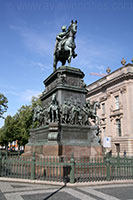 The pedestal is three-tiered. The lower part includes four tablets emblazoned with the names of sixty men proclaimed to be leading figures in Germany at the time of construction. Just above the tablets are life-sized statues of four cavalry commanders, stationed at each corner. They are Prince Henry of Prussia, Duke Ferdinand of Brunswick and Generals Friedrich Wilhelm von Seydlitz and Hans Joachim von Ziethen.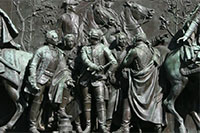 Relief
On the same level are twenty-one statues that depict the most outstanding generals of Frederick's army as well as additional statues of other leading figures in politics, art, and science. Closer to Frederick's feet, visitors will find bas-reliefs of scenes from Frederick's life and other figures, such as female allegories representing the virtues of a ruler.
Subway
Französische Straße (U6)
Friedrichstrasse (U6, S1 ,S2 ,S25 ,S5 ,S7 ,S75)
Location
Unter den Linden