Once the busiest crossing in Europe, the Potsdamer Platz was completely destroyed after the war. In 1998 the new Potsdamer Platz, full of modern buildings, officially opened.
History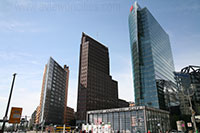 Potsdamer Platz
In the 1920s and 30s, the Potsdamer platz was the busiest and one of the liveliest squares in Europe. It was a major public transport hub and a popular entertainment district; the area contained numerous bars, cafés and cinemas.
This all came to an abrupt end in 1943 when the Potsdamer platz was left to ruins by allied bombing. After the Second World War, the square located between the American, British and Russian sectors, became a no-man's land.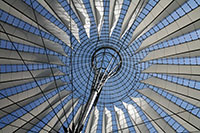 Tent-like roof of the Sony Center
It was completely flattened with the construction of the
Berlin Wall
in 1961 when the demolished buildings were pulled down.
Redevelopment
After the fall of the
Berlin Wall
it was decided to rebuild the whole, 480.000 square meters large area. Construction started in 1994 and for many years Potsdamer Platz was the largest construction site in Europe. The square, together with several adjacent blocks were redeveloped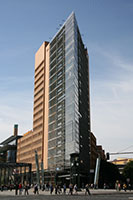 Debis Building B1
under the supervision of the architects Wilmer and Sattler.
The project included the construction of several landmark towers, a shopping arcade, an entertainment center and residential buildings.
The first building completed was the Debis tower, designed by Renzo Piano. Other eyecatchers are the Sony Center, a complex designed by Helmut Jahn which includes an Imax theater and an office tower. Its neighbor, the brown-brick Kohlhof Building featured an observation deck at a height of 93 meters.
The square today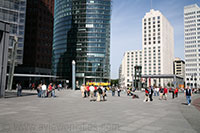 The large new underground station, shopping arcade and entertainment center have brought new life to Potsdamer Platz.

It still is more of a tourist attraction than a 'natural' square, but with the construction of more residential buildings in the neighborhood, the area has started to grow back to its former status as one of the liveliest squares in the country.
Subway
Potsdamer Platz (S1, S2, S25, U2)
Location
Mitte, south of Tiergarten