One of the five marvelous museums that sit on Berlin's
Museum Island
, the Pergamon Museum is the newest, first opened in 1930. It is named after the Pergamon Altar, an enormous monument which occupies a whole room.
History of the Museum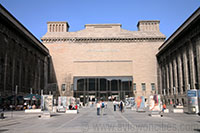 Pergamon Museum
Designed by Alfred Messel, and later Ludwig Hoffman, the Pergamon Museum was built to complement the nearby Kaiser-Wilhelm Museum (now the Bode Museum), which had grown too small to house the artifacts garnered from German excavations throughout the world.
The idea for the new museum came about in 1907 and completion took twenty years - from 1910 to 1930. It opened during one of Germany's most turbulent periods and was subsequently largely destroyed in the bombing of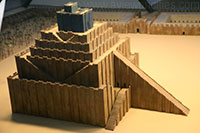 Tower of Babel
Berlin during World War II.
Fortunately, many of the pieces had been stored elsewhere for safe keeping and a number of the museum's larger pieces were "walled in" for protection. In 1945, a portion of the original collection was taken to Russia and is still housed in the
Hermitage
and the Pushkin Museums there. Many items were returned in the late 1950s but, due to Russian restitution laws, some still remain in those two museums.
The Collections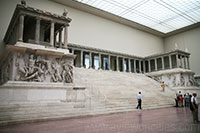 Pergamon Altar
The Pergamon Museum is divided into three distinct sections: the Antiquity Collection, the Islamic Art Museum, and the Near East Museum.
The Department of Greek and Roman Antiquities is usually lauded as the most magnificent part of the museum. Guests will be treated to several large-scale pieces, like the Pergamon Altar (180-160 B.C.), which is so huge that it requires an entire room. Constructed in Pergamon, Asia Minor, as an altar to Zeus, the gigantic structure is the centerpiece of the museum. You'll also see the magnificent Roman gate which led to the market of Miletus, also in Asia Minor.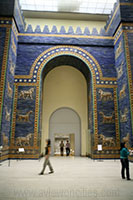 Ishtar Gate
The Near East Museum is lauded as one of the largest and finest collections of antiquities from ancient Babylonia, Persia, and Assyria.
The ancient Oriental treasures found here include 6,000 years of Near East history and include fourteen rooms covering 2,000 square meters (over 21,000 square feet.)
Don't miss the Ishtar Gate of Babylon and the facade of the throne hall of King Nebuchadnezzar. There is also a model of the Tower of Babel in the Babylonian Hall.
Subway
Hackescher Markt (S5, S7, S75)
Location
Am Kupfergraben, Museum Island