The Karl-Marx-Allee is a 90m/300ft wide boulevard stretching for two kilometers from the Frankfurter Tor to
Alexanderplatz
. The monumental street is lined with apartment blocks built in a socialist realist style.
Built during East Berlin's reconstruction period, after World War II, Karl-Marx-Allee remains an interesting and impressive monument to the Socialist era of the mid to late twentieth century.
History of the Boulevard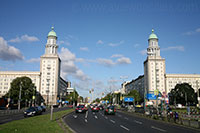 Karl-Marx Allee
seen from Frankfurter Tor
Both the eastern and western sectors of Berlin suffered much damage during the war, so by the 1950s, both had entered a period of reconstruction in efforts to bring their city back to normal. Homes, stores, and other businesses needed to be rebuilt so that residents could resume their lives.
In 1959, the mayor of the eastern sector embarked upon an ambitious project that would become known as Stalinallee, a massive boulevard with eight-story buildings, designed in accordance with the socialist neo-classical style of the 1950s. The street was named after the great Russian dictator and was to include large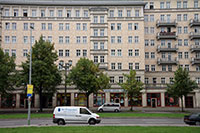 Typical apartment blocks
buildings that housed stores, restaurants, and other businesses on the first few levels and apartments for workers on the higher floors. The buildings contained national elements and were sometimes adorned with decorative tiles.
From the time of its conception, the boulevard was highly criticized by the peoples of the West, who dubbed it the first "Socialist Street" in Berlin. During the building of the street, it was also the sight of an outbreak of violence by construction workers who were protesting against the socialist government. They were quickly and violently subdued.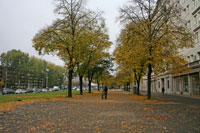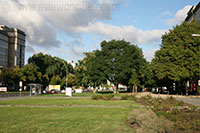 Plenty of space for pedestrians
In 1961, upon Joseph Stalin's death, the boulevard was re-named for German philosopher and revolutionary, Karl Marx. For many years, it was the annual site of the May Day parade, as it was large enough to accommodate massive tanks and thousands of soldiers who goose-stepped their way down the street.
Karl-Marx-Allee Today
Today, the boulevard is recognized for its unique architecture as it relates to the style of the German Democratic Republic. One of the street's functionalist theaters, The International, still stands today in its original glory and is a popular spot for viewing international films. One of the few remaining theaters in the eastern portion of the city, the interior of The International is large and splendid, boasting crystal chandeliers and elegant seating.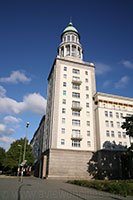 Frankfurter Tor
Frankfurter Tor
The Frankfurter Tor, a large square connecting Frankfurter Allee with the Karl-Marx-Allee serves as a gateway to Berlin's Mitte, the city's historic center. Two symmetrical highrise buildings on either side of the Karl-Marx-Allee seem to serve as watchtowers guarding the entrance to the city center. The towers, designed by German architect Hermann Henselmann, were built between 1953 and 1956 in typical socialist wedding-cake style. The facade is covered with white ceramic tiles.
Subway
Frankfurter Tor (U5)