The harmonious Gendarmenmarkt is known as one of the most beautiful squares in Europe. It was created at the end of the 17th century as a market place, the Linden Markt.
Gendarmenmarkt
The current name is derived from the Regiment Gens d'Armes who had their stables here from 1736 to 1773. From 1777, the square was redeveloped after plans by Georg Christian Unger.
It is now a quiet place surrounded by three landmark buildings, the Französischer Dom, Deutscher Dom and the Konzerthaus. In the center of the square is a statue of Friedrich Schiller, a famous German poet.
Konzerthaus
The Konzerthaus or Concert Hall is the most recent building on the Gendarmenmarkt. It was built in 1821 as the Schauspielhaus by Berlin's famous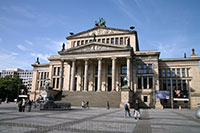 Konzerthaus
architect Karl-Friedrich Schinkel, who around the same time also designed the reconstruction of the Berliner Dom. The Konzerthaus was built on the ruins of the National Theater, which was destroyed by fire in 1817. Schinkel reused the columns and some outside walls from this 1802 building.
Like the other buildings on the Gendarmenmarkt, the Konzerthaus was badly damaged during the second World War. The reconstruction, which was finished in 1984, turned the theater into a concert hall. It is now home to the Berlin Symphony Orchestra.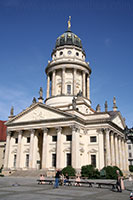 Französischer Dom
The Französischer Dom (French Cathedral)
The Französischer Dom and Deutscher Dom are two seemingly identical churches opposite each other.
The oldest of the two is the Französischer Dom (French Cathedral). It was built between 1701 and 1705 by the Huguenot community. Persecuted in France, they sought refuge in Protestant Berlin.
The church was modeled after the Huguenot church in Charenton, destroyed in 1688. In 1785 the tower and porticos, designed by Carl von Gontard, were added to the building. It actually turned the church into a twin sister of the Deutscher Dom.
The Französischer Dom contains a Huguenot museum, a restaurant on the top floor and a viewing platform.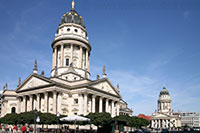 Deutscher and Französischer Dom
Deutscher Dom (German Cathedral)
The Deutscher Dom or German Cathedral is the most southern building at the Gendarmenmarkt. The pentagonal structure was designed by Martin Grünberg and built in 1708 by Giovanni Simonetti and modified in 1785 after a design by Carl von Gontard, who added the domed tower. The Deutscher Dom was completely destroyed by fire in 1945. It wasn't rebuilt until 1993 and reopened in 1996 as a museum with exhibits on German history.
Subway
Stadtmitte (U2, U6)
Französische Strasse (U6)
Location
Gendarmenmarkt, Mitte