The Kaiser-Wilhelm-Gedächtniskirche or Emperor William Memorial Church is one of Berlin's most famous landmarks. The damaged tower is a symbol of Berlin's resolve to rebuild the city after the war and a constant reminder of the destruction of war.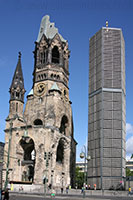 The modern bell tower
& the damaged tower
The church is located on the Breitscheidplatz, the center of former West-Berlin. It is still the commercial center of Berlin, with the
Ku'damm shopping street
and
Europa Center
nearby.
Construction
Built between 1891 and 1895 by Kaiser Wilhelm II, the church was a symbol of Prussian unity and a mark of honor for his grandfather, Kaiser Wilhem I.

The neo-Romanesque structure was designed by the German architect Franz Schwechten. The building was unusually ornate for a protestant church. It was decorated with a large mosaic depicting the history of Prussia.
A new church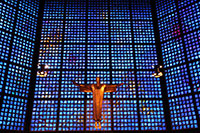 Inside the new church
On the night of November 18, 1943 the church burned down after it was hit by an allied bomb; only the broken west tower of the church was still standing.
Local opposition saved the structure - which had become known as the 'hollow tooth' - from demolition in the 1950s and in 1961 a new, octagonal church designed by Egon Eiermann was built alongside the existing tower. The church is a reinforced concrete structure with blue-colored glass bricks.
A freestanding hexagonal bell tower was constructed on the site of the former main nave of the destroyed church.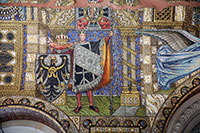 Detail of the mosaic
A third and small rectangular building is also part of the new complex.
Memorial Hall
Inside the remaining west tower of the destroyed church is a Gedenkhalle or Memorial Hall. It documents the history of the church and contains several of the original objects in the church as well as photos from before and after the bombing. Some of the mosaic decoration and reliefs that survived the bombing can also be seen.
Subway
Zoologischer Garten (S5, S7, S75, U2, U9)
Location
Breitscheidplatz, Charlottenburg