One of the largest zoological gardens in the world, Berlin's Zoologischer Garten has been thrilling visitors since it opened more than 150 years ago.
Building the Zoo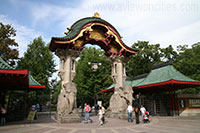 Elephant Entrance
First opened to the public in 1844, the Berlin Zoo was built upon a gift bestowed to the city by King Friedrich Wilhelm IV. The king provided animals from his menagerie to fill the cages and open habitats at the zoo, which was designed by Peter Lenne.
The idea for the zoo was the brainchild of Alexander von Humboldt and German-born African explorer and zoologist Heinrich Lichtenstein. It occupies the southwest portion of the
Tiergarten
, a large public park in the center of Berlin.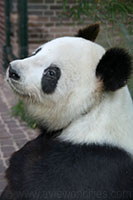 Giant Panda
White Canadian wolf
The zoo's population increased rapidly and literally thousands of animals had taken up residence there by the early to mid 1900s and the zoo was a popular attraction for those visiting the city, but after the destruction caused by the war, less than one hundred animals remained.
The Zoo Today
These days, as you enter the Zoologischer Garten through its Elephant or Lion Gates, you'll be treated to more than 15,000 animals representing about 1,400 species. Cages are rare. Most animals roam free in re-creations of their natural habitats.
Pandas and more
The pandas are the most popular residents of the Berlin Zoo, attracting an amazing amount of attention from local media whenever they hit a landmark birthday or other occasion.
The Birdhouse is one of the most modern in Europe, boasting more than five hundred species of birds, many of them quite rare.
The polar bears were also very popular when Knut - a polar bear cub rejected by its mother - was fed by one of the zookeepers.
Among the other well known species in the zoo are wolves, gorillas, elephants, seals, zebras, rhinoceros, lions, orangutans, giraffidae and okapis.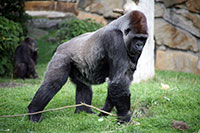 Silverback Gorilla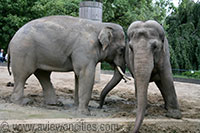 Elephant
There's also an excellent aquarium adjacent to the zoo (you can buy a combo ticket) where you'll find not only fish but also insects, amphibians, and reptiles.
Kids love the Children's Zoo, where they can pet the animals, as well as the onsite playground, providing lots of room to run around after a long day of sightseeing.
Entrances
The zoo has two entrances, one is situated at the Hardenbergerplatz and is known as the Lion Gate since it is flanked by two small buildings with statues of resting lions. The other entrance, at the Budapester Strasse, is flanked by statues of elephants, appropriately known as the Elephant Gate.
Subway
Zoologischer Garten (U2, U9, S5, S7, S75)
Location
Elephant entrance at Budapester strasse 34
Lion entrance at Hardenbergplatz 8