One of the masterpieces of the area known as
Museum Island
, the Altes Museum (Old Museum) was the first dedicated museum building in Berlin.
The Building and Statues
Altes Museum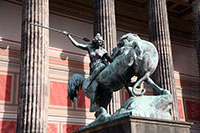 Statue at the entrance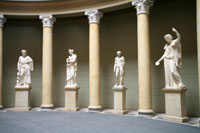 Rotunda
In the seventeenth century, princess Louise, daughter of Friedrich Wilhelm - also known as The Great Elector - built a beautiful pleasure garden on the tip of an island on the River Spree. Many years later, when one of his descendants ruled over Prussia, the need arose for a museum to house many of Germany's treasures, which had recently been recovered from France.
Thus, in the 1820s, Berlin's great architect Karl Friedrich Schinkel devised a plan for a new museum bordering the garden. Built between 1825 and 1830, the Altes Museum was the first in the city, fashioned in the Greek style. It was situated across the garden from the King's Palace, which was demolished World War II.
Eighteen Ionic columns grace the front of this grand museum. The rectangular shaped building encloses two generous courtyards and a two-story centrally-located rotunda, based on the design on the
Pantheon
in
Rome
. The interior of the rotunda contains sculptures of gods of antiquity in the recesses of its walls. Two statues flank the wide outdoor steps. Entitled Amazon and Lion Fighter, they were designed by August Kiss and Albert Wolff.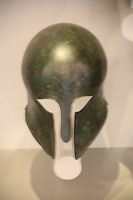 Greek Helmet
For more than a century, the Altes Museum was enjoyed by locals and visitors alike. However, as is true for much of Berlin, the museum did not survive World War II. Just prior to the end of the war, a tank truck exploded in front of the museum, destroying it completely.
The Museum Collection
After the war, the Altes Museum was the first of the group museums on
Museum Island
to be renovated and it reopened in 1966. Today, it houses the Antikensammlung (Museum of Antiquities) on its main floor. The permanent collection here includes a vast variety of ancient Greek and Roman decorative art including vases and statues.
Subway
Hackescher Markt (S5, S7, S75)