At the beginning of the nineteenth century, Alexanderplatz was one of the busiest squares in Berlin. Already in the Middle Ages it was the center of the city and since the reunification of East and West Berlin the large square has been primed to once again become the center of Berlin.
Ox Market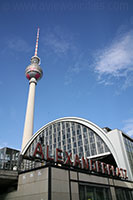 Fernsehturm
Originally the square was called the Ochsenmarkt or ox market, but in 1805, after a visit by Russian Tzar Alexander I it was renamed Alexanderplatz. The locals simply call this large square 'Alex'.
Socialist Architecture
Most of the buildings on the square were destroyed by allied bombing during the Second World War. After the war it became the center of East-Berlin and the square was used as a showcase of socialist architecture. This resulted in some plain bulky buildings and a huge television tower.
Fernsehturm
The TV tower, known as the
Fernsehturm
or the Tele-spargel is one of the tallest structures in Europe. The total height to the top of the spire is 365 meters or 1197 feet. It was built in 1969 by a team of architects with the help of Swedish experts. It contains a concrete shaft, a steel-cladded metal sphere and a TV antenna.
The sphere contains a revolving restaurant (Telecafé) at 207 meters and a viewing platform at a height of 203 meters (666 ft).
Monuments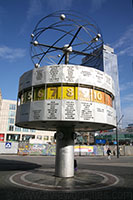 World Clock
In 1969 two more monuments were added to the square, the Weltzeituhr (World Time Clock) by Erich John and the Fountain of International Friendship.
The world clock shows the names of a number of foreign cities in different time zones. In 1997, when the clock was restored, a number of cities that were originally left out for political reasons were added, namely Jerusalem,
St. Petersburg
and Cape Town. On top of the clock is a simplified model of the solar system.
The Fountain of International Friendship is a 23 meter wide circular fountain. At the center of the fountain is a modern structure that consists of a series of basins along which water flows. The fountain - a protected monument - was renovated in 2002.
Redevelopment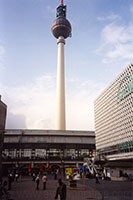 Alexanderplatz
The square was known to be one of the least attractive from an architectural point of view, so the city of Berlin commissioned an architectural competition which was won by Hans Kohlhoff (also one of the architects of the modern
Potsdamer Platz
).
The plan resulted in a complete redevelopment of the square, as well as the renovation and reconstruction of surrounding buildings. For more info about this project have a look at
this website
.
Subway
Alexanderplatz (U2,U5,U8,S5,S7,S75)
Location
Alexanderplatz, Mitte