Mies van der Rohe's pavilion for the 1929 Exhibition in Barcelona is rightly considered a milestone in twentieth-century architecture. It was originally built in 1928 as the German pavilion for the International exhibition held later that year at the
Montjuïc
in Barcelona.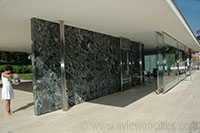 Mies van der Rohe Pavilion
In the 1920s Germany was a trendsetter in international architecture with Mies van der Rohe at the forefront. His revolutionary modern design influenced many other architects throughout the twentieth century.
A Design Ahead of its Time
The structure was made of glass, travertine, steel and several kinds of marble (green marble, alpine marble and golden onyx). On a travertine podium asymmetrically installed plates of glass and polished marble define different areas that seem to flow into one another. The pavilion is covered by a thin flat roof.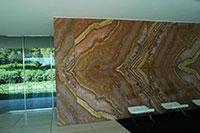 A pool reflects the walls and roof, reinforcing the image of a confusing mix of horizontal and vertical planes. Only the statue in the pool breaks these geometric lines. The statue of a woman is a bronze replica of a piece created by Georg Kolbe. It is known by a number of names, the most common used is 'Alba' (Dawn).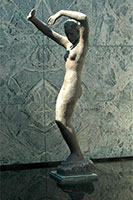 Alba
Mies van der Rohe also designed stools and chairs specifically for the pavilion. The classic 'Barcelona chair' became an icon of twentieth-century design; it is still manufactured today. The chairs and stools in the pavilion are replicas, the originals got lost when the pavilion was disassembled in 1930.
Disassembly
There were no exhibits held in the pavilion; it had no real purpose other than accommodating the opening reception of the German part of the exhibition on May 26, 1929. After the closure of the exhibition the German government was unable to sell the pavilion so it was disassembled and the material was sold to cover some of the cost.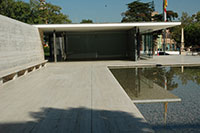 It was only later, during the 1960s, that architects and critics started to recognize the architectural value of the pavilion, calling for the landmark to be rebuilt.
Reconstruction
Two decades later, in 1981, a group of architects lead by Oriol Bohigas, head of the urban development department of Barcelona, started the reconstruction. The architects had to overcome several obstacles as there were no color photographs of the original pavilion and - even though the material used was durable - the structure was only designed to have a temporary character. The pavilion, built on exactly the same site and with the same marble originally used by Mies van der Rohe, was completed in 1986.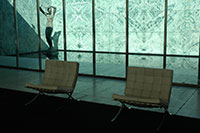 Barcelona chairs
This emblematic work of modern architecture is now an absolute must-visit for anyone interested in architecture. Inside the pavilion you will also see George Kolbe's 'Alba' statue and a replica of Mies van der Rohe's famous Barcelona chair.
Mies van der Rohe
In 1930 Mies van der Rohe became director of the Bauhaus. This art and architecture school had a major impact on western architecture. The Bauhaus was closed by the Nazis in 1933 and Mies van der Rohe moved to the United States where he would build modern landmarks like the
860-880 Lake Shore Drive Apartments
in
Chicago
and the
Seagram Building
in
New York
.
Location
Avinguda del Marquès de Comilas (Montjuïc)