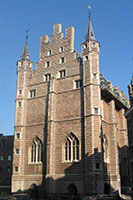 The Vleeshuis is a 500 year old gothic building not far from the
city hall
. Literally translated Vleeshuis means 'Meat House', but it is better known as the Butcher's Hall. It is one of the oldest surviving buildings in Antwerp.
Old Butcher's Hall
A Butcher's Hall was built here as early as in 1250. The building functioned as a meat market where butchers could sell their merchandise.
The beginning of the 16th century marked the start of Antwerp's Golden Age, during which Antwerp became Europe's third largest city and its most important trade center. The existing butcher's hall, at that time 250 years old, cannot cope with the growing population, so the expanding butcher's guild decides to build a new butcher's hall at the same spot but twice as large as the existing hall.
Construction of the new Butcher's Hall
The butcher's guild commissioned master builder Herman de Waghemakere to construct a functional building that would also reflect the growing status of their guild.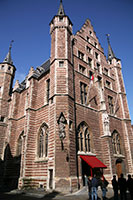 It is not clear however, whether Herman de Waghemakere - who at the time was working on the nave of the
cathedral
- or his son Dominicus de Waghemakere - who built Antwerp's stock market in 1515 - designed the new Butcher's Hall. Both architects employed the late gothic style used for the Butcher's Hall.
Construction of the new building started in 1501 and was completed in 1504. For its time, this was a very large civil building, 21 meter wide and 46 meter high. Its facade was made of red brick with layers of white sandstone (bacon layers as it is locally known). All four corners of the Butcher's Hall feature a small round tower. A fifth, wider tower is set at the middle of the southern side. Not much is known about the original interior, but the building included at least a 624 sq. m. (6700 sq. ft) meat market and a chapel.
After the Guilds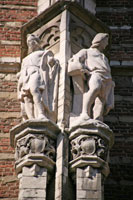 The Butcher's Hall lost its prime function in 1810 when the French occupying forces abolished the guilds. During the 19th century the building is used as a storage depot and a theater.
In 1899 the city acquired the Butcher's Hall. After a restoration from 1901 to 1914 the building reopened as a museum in 1919. It displayed a heterogeneous collection of historic objects, including pottery, drawings, lace, weapons and jewelry.
City Sounds Museum
The Butcher's Hall reopened in September of 2006 as the City Sounds Museum, a museum of music. A part of its collection moved in 2011 to the
MAS
, a museum dedicated to the history of Antwerp.
Location
Vleeshouwersstraat 38-40