The St. James's church or St. Jacobskerk is one of Antwerp's largest churches. Its tower was even supposed to top that of the city's cathedral, but those plans were eventually shelved. Today the church is best known for the tomb of P.P. Rubens.
St. James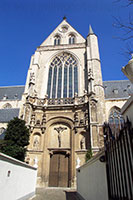 St. James's Church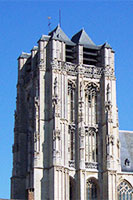 Unfinished Tower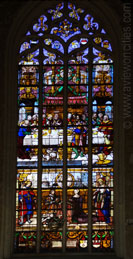 Stained glass window
From 1431 on, even before the church was built, the chapel on this site was a stop on the route to the burial place of apostle Jacob (aka apostle James) in Santiago de Compostela. In 1476 the chapel became a parish church so plans were made to replace the modest building with a large church.
15 Years later, in 1491, construction of the late-Gothic church started. It wouldn't be until 1656 - when Baroque was en vogue - before the church was finally completed. Fortunately throughout all these years the architects closely followed the original Gothic design, hence the consistent Gothic exterior. The interior however is decorated in Baroque style.
Ambitious plans
The plans at the start of the construction, in a time when Antwerp was on its way to become Europe's most important economic center, were very ambitious. The church would feature just one tower, but about 150m tall (492 ft), well above the 123m (403ft) of the two planned towers of the
Cathedral of Our Lady
.
Unfortunately, due to the decline of the city from the mid 16th century on, financial problems eventually caused construction to be halted after the tower had reached just one third of its planned height.
Tomb of P.P. Rubens
In the 17th and 18th century St. James's Church was the parish church of Antwerp's prominent citizens, several of whom built private burial chapels in the church.
The most famous is that of Antwerp's renowned painter Pieter Paul Rubens, completed five years after his death in 1640. The painting above Rubens's tomb is from the master himself.
Interior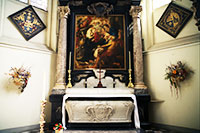 Rubens's tomb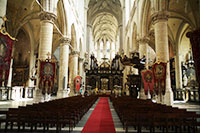 Nave
While the original interior was destroyed during the iconoclastic furies in 1566 and 1581, the Baroque 17th century interior is well preserved thanks to a priest who pledged allegiance with the French revolutionaries, who had just invaded the city. In return, he was rewarded with choosing one church that would not be plundered. Many of the original stained glass windows were unfortunately destroyed during WWII.
St. James's Church boasts some fine Baroque interior decorations, like the wood carved choir stalls, created between 1658 and 1570, the opulent main altar (1685) and the communion rails of the holy chapel (1695). The central, wood-carved pulpit was created in 1675 by Lodewijk Willemssens. The organ, built by J.B. Forceville in 1727, is also original, including the still functioning mechanical action.

Location
Lange Nieuwstraat 73-75